In my 8-year stay in Manila, it's only now that I've witnessed such a destructive typhoon. Trees, billboards, roofs, and other structures are not that strong as compared to Typhoon Milenyo. I couldn't really divulge everything that happened to me before, during, and after the typhoon but here are the things that I've learned, realized, and observed from that experience.
People were walking on the flooded streets because there's no transportation available. There are floods everywhere. Rich kids and simple folks are walking through the flood.
Stores were all closed. Thank God, Tropical Hut was open. I was really starving after the storm. I couldn't really get out because it was insanity if one would get during the typhoon.
God is still good to me because I was lucky enough to find and board a jeepney.
Many things are possible when you have money. Rich people can afford a night or even days of stay in a hotel just so they can avail of electricity and water.
Pains and trials bring out the best in us. We learn to be grateful for every good deeds that people show us--even the little good things matter.
Anyway, it's October already. I can now imagine the cold weather and the Christmas spirit. Also, Tita Toots visited me at work today. I was really glad to see her. She told me some news--good abd bad. Time really passes by so quickly.
Speaking of, last Saturday, with a rather good mood, I made a pizza with the help of Raymond, and Ardee. The pizza wasn't perfect but it tasted really good. Then I realized that maybe this is now the right time to learn how to bake since having my own bakeshop is one of my dreams. Next week, I'm planning on making a lasagna or baked macaroni.
I am having little heartaches at work but surprisingly, I am looking forward to work. My shift is always "toxic" but I don't mind anymore. I am continually challenged and I am happy.
I also surprised myself because I helped out in our house this weekend. Maybe, typhoon Milenyo really did something in me. I guess I am just grateful to be alive. I cleaned our bathroom, really cleaned it from the floor, to the bowl, to the pail and tumbler, and to their loofas, soaps, and soap dishes. I was really grateful for the water supply. Not only that, I also ironed some of the clothes. Grabe, I was really different. Raymond was really shocked. Hehe...
The best that happened during the weekend was attending the mass. My soul is really starving.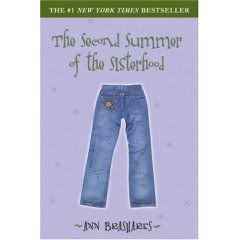 I also finished a book--The Second Summer of Sisterhood...I'm not really sure but it's the second book of the Sisterhood of the Travelling Pants. I was really into it that I was able to finish that in 3 days. I really like the character and story (there in the 2nd book) of Bridget. Like her, I've lost a parent. But I'm lucky to still have a loving family.
That's all for now!