The old year is about to leave us. 2006 is coming. Time flies so fast. I have gone through a lot of changes. I couldn't believe that I could go through that but I have gone through that.
2005 has been my year of surrender. Looking back, I have been thrown in a molder to be molded, put on fire, rough edges hammered, to become a better me. I couldn't really say that I am where I want to be but I am not where I used to be. I have lost a lot of my loved ones--either dead or alive. I wasn't able to give (those who died) them a space here in my blog and I would like to do that now before the year ends. This couldn't do anything to bring back whatever is lost, but I would like to keep a memory of everyone and everything.
This year I was asked to surrender these people: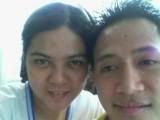 My almost five year relationship with Mark has been ended by him. So many lessons are learned and unlearned. am I okay? Not really. But I am getting there. How can you unlove someone? Is that really possible? I don't think I can ever unlove him. But I can let God make that love evolve into something that fits us. I have forgiven him and I am now trying to move on. There is a reason for everything. And I am trusting God on this one. Actually, i am now trusting God on everything. Because that is the right thing to do.
Mark's Lola died this August on Mark's birthday. She was really kind and affectionate. Whenever I would go to Bulacan, she would really make an effort to speak to me and ask me questions about her medications and condition. She would even give me a kiss whenever I would leave Bulacan. Sadly though, it took me 9 months before I could visit her again...and she was already in her coffin when I did that. It really broke my heart when I heard the news. To think that she's not really my lola. Maybe, it's because of her affection to me. I miss her.

My Tita Lagreng died last September. If my dad is the kindest tito my cousins could ever have, she is the kindest tita. I am forever grateful for all the assistance, care, advices, and love she and her family gave me during my 3-month stay with them. She never asked me for any financial obligation while I was with them. She would even be the one to offer me financial help whenever I was broke. We would often talk after I came at their house from work. And I would gladly relay to her all of the daily events that happened, from the tricycle drivers to the people at work. She would patiently listen, just like my mother. And sometimes if she was in the mood, she would tell me stories of her youth. I used to have a BIG problem when it comes to mingling with people. I tend to be outcasted. And she would give me tips on how to deal with it. She used to be naughty in the sense that she would piss others more when she knew that others were already pissed at her. But she is one of the conservative people I know. She would lecture me on how to act and deal with the opposite sex. I like her take on life and I really look up to her when it comes to her faith in God. She is also a devoted wife and a loving mother. One of my regrets though is not being able to visit her more often when she was sick. She got sick, her kidneys gave up, after I left their house. And because of the distance and my schedule, with all of the adjustments I have to make, I wasn't able to spend time with her. I remember planning on visiting her, a few days before she died, but it didn't push through because that supposed visiting day was the day of the official break up. Basta, she will always be one of the reasons why I continued with my life. To never give up, to seek God. It is in their house that I first stumbled upon the PDL book.
My friend Kleng. After almost five years of being together, she left us because she has to learn and unlearn so many things. I miss her but I think she has to be away for her dreams to come true. She is one of the few people I can really confide my feelings with. She knows what to say because she does understand what I am going through. She really did see me grow and stumble and get up. I can really say that she's one of my true friends. She is now staying with her sister, Marivic. I miss her. I hope that she'll be able to finally get what she is dreaming of.
My Dad's mother, Lola Usyon. She died this December. I never really got to hang out with her during her last few years on earth because of the distance. She used to leave in our house but after some years she opted to stay at my Aunt's place. A very kind lola, that's who she is. When my siblings and I were still in gradeschool, she would devotedly went with us. While we were in school, she would patiently wait for us at our other lola's house in Sabang. She would make sure that food is ready during lunch. We were also together during those times that we were both "blooming". We loved walking together and going to mass together. We also love to dance and sing. She also taught me Latin words that I already forgot. But I remember one time, my finger got cut by a blade and it wouldn't stop bleeding. In panic, I woke her up and she just whispered some words and then the bleeding stopped. I was amazed and relieved that time.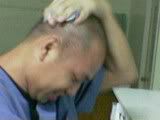 That's
Sir Rowel
. We used to work together but he already resigned.He will be going to Dubai to be with his girlfriend so they can get married. He is the only one I can really consider to be a kuya. He is mature and when he gives you his thoughts, his thoughts are really sensible. He will really tell you what you need to hear instead of what you want to hear. And he is one of those people who help me deal with what happened, although he would constantly whine whenever I would begin talking about my past. He is also one of my favorite preys when I'm in the mood to pick on people. Look at his pic, this was taken on one of our night shifts, and I was in the mood for vanity. He also wanted to take a pic of himself and when he took a shot, his head was so shiny that he laughed at what he saw. That was why he was wiping his head. He didn't want me to take a pic of him after that. Although I am sad that he already left us, I am happy for him. He deserves to be happy.
Although a lot has left, it doesn't mean that it's really the end. 2005 is just the year that we have to part ways. There are reasons why but I know that someday, we'll be together again. Maybe not now...but someday.
And now, let's move on to the people who came into my life.
Sophia Zoe. Kuya Ronald's and Ate Mylene's first born.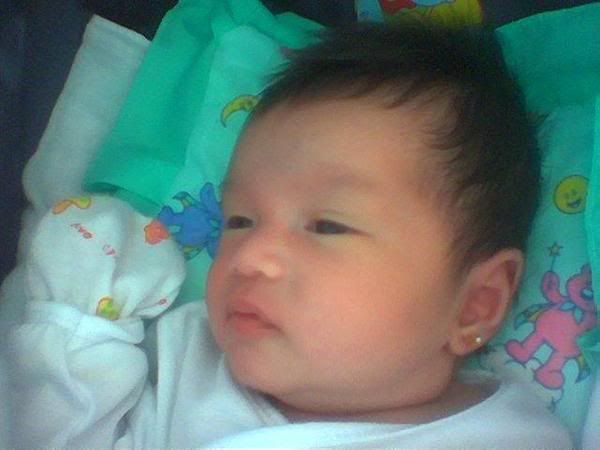 Cassandra. Kuya Bailon and Ate Baby's first born.
That's Gian. Ate Gina and Kuya Rocky's first born. He is the newest member of the Titular's family.

Other wonderful highlights of the year:
Ate Gina and Kuya Rocky's church wedding here in the Philippines. I got to be an usherette.
The Puerto del Sol summer
I actively blogged this year. Although I stopped during that life-changing month, I gained friends on the net. Although I haven't met them in person they are really able to help me with their comments and their posts. I want to thank them for their kindness because they always stop by and they are kind enough to share their life through their stories.
The Santacruzan. It is during this year that the Kapisanan is formed. Now I can expect more activities in our area from now on.
The Mirandas went back to the Philippines for a vacation. And we really had fun spending time with them. I hope to be with them soon.
Sam Gabriel was born. I can't find pics of him eh.
Kuya Carling had a stroke and aneurysm. Thank God he was still givena second chance.
Kuya Ronald and his family went to Australia.
Joret and Edra went to Canada to pursue their career as pharmacists.
And I can now proudly say that I have accepted God in my life and He is now the first and the center of my life. I think that this is what really make 2005 a great year for me.
I love this pic. Wala lang.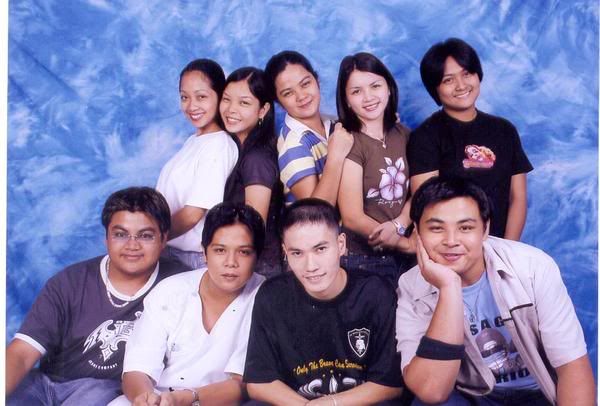 Pic of me with my cousins...

And after saying what I want to say...I wish you all a BLESSED NEW YEAR!!! I am really looking forward to 2006.