This is the most that I can do to make my blog look summery. Anyway, additional candidates that people should vote for are
Manny Villar
and
Ping Lacson
. Enough about that. Let's go to PBB. I am such an addict that I was losing sleep trying to watch it.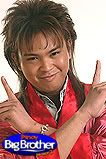 I vioted for
Jeremy
10 times because I like his personality plus he cried a lot of times and he seemed to love his mother that much. And it's just unfair that ABS chose Bodie. Actually, I also voted for Bodie once but I have my support on Jeremy. I don't think that ABSCBN really valuedour text votes. I guess they just chose between the 4. They chose Bodie because of Tirso Cruz...hello he still has strong connection. Sorry Bodie but you put yourself in the limelight and you already told the whole world that Tirso Cruz III is your father. So I guess, you will get lots of favors because people already know. And Maricris. I don't like her. I'd rather have Mikah there in the house instead of her. Because she has been bitchy. Maybe there is something more to her. Maybe I am just misundrstanding her but right now, I think she better be nice because again, she chose to put herself in the limelight. Mikah is better off being a nurse. Showbiz is so uncertain that nursing is the better option for her.
I watched Fearless yesterday and the fight between Marquez and Barerra was really action-packed. I consider it the greatest battle I've seen. Too bad Barerra lost.
Maybe I shouldn't take sides because people I chose (in a game/fight) lost. It just makes me disappointed.
That's it for now. Happy summer everyone!