Kung kanino ka nakaharap, iyon ang iyong kamukha
Kapag wala kang kaharap,
wala kang kamukha.
Kapag wala kang kaharap, wala kang hinaharap.
Kapag
wala kang hinaharap, wala kang patutunguhan.
Kung sa pera ka nakaharap,
mukha kang pera.
Kung sa Diyos ka nakaharap, kamukha mo ang Diyos.
Walang naglalakad ng paatras.
(Ang umiinom lang ng Arthro...)


The one in the parenthesis is not really included. I just want to put my odd humor. Anyway, these lines come from the priest who held the mass at Antipolo church this morning. These lines are really something to think about. Sorry, I don't know how to translate these in English. Whoever, or whichever you are faced is your face. If you always look at money, then you are surely facing money--and if you always face money then you became greedy that money is all you can think of. But if you face God, then you will likely become just like Him in character. Nobody walks backwards. And sometimes we do not become reality to others unless we show ourselves to them. So this is like fellowship that we have to reach us to people around us. That it is good to be friendly. That it is good to let our family, friends, special someone to know that we are alive and that we love them. And if you don't have a focus, if you are not facing anyone then you have no future.

Anyway, it is really sensible that I see to it that I attend a mass in Antipolo every 1st of May. They say the patron there is the patron saint for travelling. And I always travel. So I guess, she is my patron.

Going to Antipolo today was quite a hassle. I blame it on the heat and on my period. I kinda became a bitch towards the staff of Red Ribbon. And I tried picking a fight with my sister because she did not want to go there at Red Ribbon to meet me. I just followed them kase...Anyway, upon seeing my Mom, my mood changed and I regretting being a bitch a while back. I really have to control myself.

That is also what my senior keeps telling me. And yesterday, our chief met with our area to talk about patient complaints. How can I smile when I'm really tired? Can you suggest of ways to make me smile? Really, I need your suggestions.

Anyway, we also went to our cousin's house in Marikina and as usual we gathered there to eat, catch up on each others' lives. I was able to share some of my thoughts and current sufferings. I don't want to think about that anymore. I just hope that God will never lead me to danger. I trust in God.

Anyway let me share this with you:




What does your handwriting say about YOU?

and also these: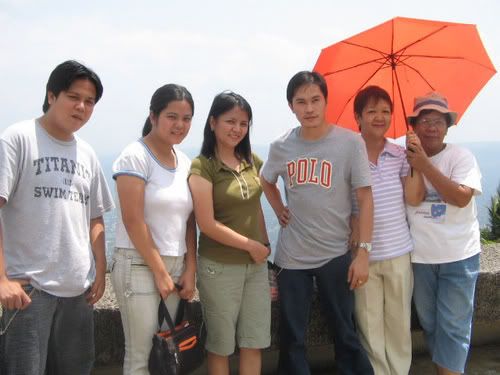 my brother, me, glenda, ardee, mom, and ate margie