Today is my 24th birthday and I have never been grateful in my entire life. Let me tell you why...
Yesterday Kim and Faith rushed to my boarding house because they were worried over me. And I want to thank them for their concern. I am really grateful to have them as my friends. And I want to apologize for that message that made them worry. See, I sent them a message about me dying and my last requests, sort of like last will and testament. Thoughts of dying and death embraced me eversince 3rd of january. Why?
I found something weird on my body. Gotta have it checked.
At 2am 4th of january,I woke up to find my roomates looking for something under their beds. I asked what they were looking for.One of my roomates answered me,"May centipede ganito kalaki(she motioned as big as the giant centipede toys) galing sa kama mo pumunta sa kama ni Ate Sheila..." And then I panicked andI helped looking for it. We found nothing. But we did find some holes near the wall. And so we decided to put packaging tapes on the holes. We also got to clean the room. And then we slept.
All centipedes are predators. The first body segment contains a
pair of clawlike appendages called maxillipeds, consisting of a modified pair of
legs which are connected to venom glands inside the body. The sharp tips of the
claws are used to penetrate the exoskeleton of a prey insect, and muscles in the
centipede's body squeeze the venom glands to force poison through the hollow
fangs into the victim's body. These claws can be used to kill prey ranging in
size from insects and other arthropods to small vertebrates such as rodents or
lizards. Although the venom is not particularly powerful in most species,
punctures from a poison claw can be painful to humans, and some of the larger
tropical centipedes can produce systemic effects and are potentially dangerous.
There is one report in the literature of the death of a seven year old girl from
the bite of a large tropical centipede in the Phillipine Islands (probably the
species S. subspinipes).
But then here's what one should do if ever they've been poisoned by it:
Place ice (wrapped in a washcloth or other suitable covering) on the site of the
bite for 10 minutes and then off for 10 minutes. Repeat this process. If patient
has circulatory problems, decrease the time to prevent possible damage to the
skin. A trip to the emergency room will probably not be necessary, but contact
Poison Control just to make sure.
What could have happened? I nearly died then if that centipede preyed on me. See, the centipede came from the bag where I put my notes and books. The other night it dropped and I picked it up. The centipede must have gone inside by then. That night I didn't even paid attention to that bag because the book I needed was already out. If that book wasn't out yet thenI could have put my hand inside that bag and then--I'd die. That bag also was just beside my bed and I was leaning near it. Was I spared? I felt like a star in a Final Destination movie. HaveI cheated death? What are the chances that that centipede would come back and sting me? I know I'm being paranoid but the thought of death in a secure area drive me nuts. WillI die today? Will I die unloved? I felt so alone and so useless that day. These feelings prompted me to send Kim that message.
I am not afraid of death but I'm afraid of how I will die because no matter how, it will still hurt. And if it's my time already, then so be it.
But you know what, I realized something...We cannot control a lot of things in our lives--especially the when, where, and how. And if God will still allow me another day to live, I will never waste it ever again. I would make sure that I'll be spending it in love. There is no greater gift than life itself. After all, God gave us this gift. I am grateful. Thank God.
My Wish for Today:
A text message from Apollo. Ang babaw!
My Wish for this year (and for the years to come)
To live a useful life. I don't want to waste this life. And I'm really praying and hoping to go to Australia and become a pharmacist there so I can extend my help to many people.
And so my birthday today has already been very meaningful. I thank God for this life. Life is really beautiful.
Pics on New Year's:
Ang mga makukulit kong pinsan with my mas makulit na kapatid
My pretty sister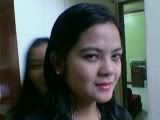 Me trying to look pretty...5 days before my birthday
Me and my cousin Dan